When I think of an online quiz it's usually finding out what fast food burger I am or something equally silly. But did you know these personality style quizzes can be used to benefit your business?
Creating a quiz for your blog is a great way to connect and interact with your audience, but it's also an effective tool for growing your email list and making sales.
Luckily there is a nifty tool called Interact that helps you make interactive quizzes. It's easy to use and connects with just about every email marketing tool out there.
Try Interact Quiz Builder for Free!
Concept your quiz idea
Right away I had an idea for my quiz but don't fret if you can't think of anything, they have thousands of templates to choose from!
My quiz (Which Web Host is Best for You?) is meant to solve a problem for my readers and it's one I often get asked about. So much so that I have an entire guide on web hosts.
Adding a quiz to that added another layer of interactivity and helped guide people to the best fit for them.
Your main goal for your quiz may be to get subscribers onto your list, sell a product or service, or direct users to a call to action like a Facebook Group.
For my web hosting quiz the final results would include an affiliate link to the recommended web host. This means I would make a small commission if someone decided they wanted to go with that result.
You'll want to have an idea of what your questions and results will be and how they will correlate. In my case it was quite simple since my quiz dealt with something I'm an expert in and answer on a regular basis.
For example, I ask how much you want to spend on your web hosting plan. Those who can spend more will get matched up with a premium company compared to someone who selects an answer for bargain pricing.
You quiz may not be as specific but keep your answers varied enough so that's it easy for people to make a quick decision.
Using a template
One of my favorite things about using Interact are all the templates that can save you time. You'll find they have quiz templates for just about any niche you could imagine.
Even if you have your quiz already mapped out I recommend using a template so you can see what everything will look like and you can just replace the content with your own.
Luckily, if you have no clue what to do for your quiz it's easy to find something among the available templates.
First you select which niches you'd like to use (you can select multiple) and then you'll decide what type of quiz you'll be creating.
Interact let's you choose from three types of quizzes:
Personality: The most common; the quiz taker will choose options that push them towards a certain result
Assessment: Test knowledge; each question will have only one correct answer
Scored: Each answer has a score; the quiz taker will receive results based on their score range
You'll then be shown a list of quizzes that are already populated with questions, answers, text, and images. You can use it right out of the box if you are stumped for ideas or tweak it so it fits your brand and personality better.
Again, I recommend starting with a template so you can get an idea of how your content will fit into the quiz.
An enticing cover page
The cover of your quiz is the first thing people will see when they land on it. Whatever template you chose will come automatically populated with a cover image and text.
What I absolutely love about Interact is that they have Pixabay integration built in. So every image you see on your quiz can be quickly swapped for a completely free to use image.
This lets you quickly customize your quiz without having to hunt for separate images and then resize them.
Add your questions
Since my end goal was to help people find the best host choice for them, my questions were things I'd normally ask my clients when helping them decide.
For this I chose the Personality style quiz which fits for a lot of different quizzes. While my answers aren't technically personalities, the questions are meant to filter people into buckets which could be anything.
My questions helped determine whether quiz takers had a small website or one with lots of traffic, if they wanted to pay by the month or year, and what the most important factor was when they looked for a web host.
You want your questions and answers to be concise and easy for your audience to answer. If they get stuck on a question or don't find an answer that fits, they must just leave the quiz entirely.
Correlating your answers to results couldn't be easier. You just click on the Edit Result Correlations button and it will present a sort tree/graphic that lets you connect options.
If you're completely changing a template you'll want to make sure you don't have any leftover connections from the template and that the right answer goes to the right result.
You can even select multiple results!
the quiz results
The results of your quiz is probably the most important part – it's why people are taking your quiz in the first place!
Since my quiz is a recommendation the results each correspond to a different web hosting company. In the text I've given some quick information and I've linked the CTA button to my affiliate link.
Your goal could be different from mine.
Instead you could link to your own products or courses, you could be using email as a way to get more detailed results to quiz takers, or you can even redirect them to a completely different page.
So if I wanted to I could just have people land up on Siteground's website once they finished the quiz. But I think that would be a little jarring so I opted to use the built-in results pages.
Don't forget you can use a page builder like Elementor to create your own results pages on your website and have Interact redirect to them.
This ensures your branding is on point and you can include whatever content you want!
Integrate with your email marketing tool
Interact works with just about every email marketing service provider under the sun. Since I'm using ActiveCampaign that's what I've connected it with but Mailerlite and Convertkit are also options.
Depending on your quiz you may have lists and automations for each results or even some specific answers. This allows you to send highly customized emails and sequences based on results.
You can create all sorts of action inside of Interact that will happen inside your email tool. For example, in ActiveCampaign I've created a custom field for this quiz.
Whenever someone opts-in while taking the quiz, their result will be added to this custom field. You can also add them to a list, an automation, or even tag them.
I love that you aren't limited and you have completely flexibility over how the results and even the questions can trigger actions.
One other nifty thing about Interact is that you can keep opting in by email completely optional. This helps people not feel pressured into signing up but gives them the choice.
You can also include a link to your privacy policy and GDPR notices right on your quiz form.
Implement your quiz
It's easy to place your Interact quiz just about anywhere with all the options they give you. They even have a WordPress plugin so you don't have to mess with code.
Because I want as many eyes as possible on my new quiz, I decided to pop it into my header on my website. All I've done is used the direct link to the quiz and created a button that opens in a new window.
I find it's best to limit as many distractions as possible. You want people to focus on the quiz and get to the results.
You may also choose to build your own landing page to place your quiz on. This let's you control the look and feel of the page and limit anything that may distract.
Some other ways you may want to share your quiz is:
Sharing in your Facebook group (or in promo threads)
Telling your current list about the quiz
Promoting it on Pinterest and social media
Adding a CTA to the quiz in appropriate blog posts
Try Interact Quiz Builder for Free!
What I love most about Interact quiz builder is that it is just so plain easy to use!
They've covered all the technicalities of creating complex quizzes that hook up with just about any email marketing tool. And all I really need to do is brand the quizzes to match my site.
Honestly, the most challenging part is figuring out how to take advantage of the email triggers and creating the most beneficial email sequences.
Reflecting on my first quiz, I think it could be a bit too specific. Some people may not be in the market for a new hosting company or probably feel they already are with the best choice.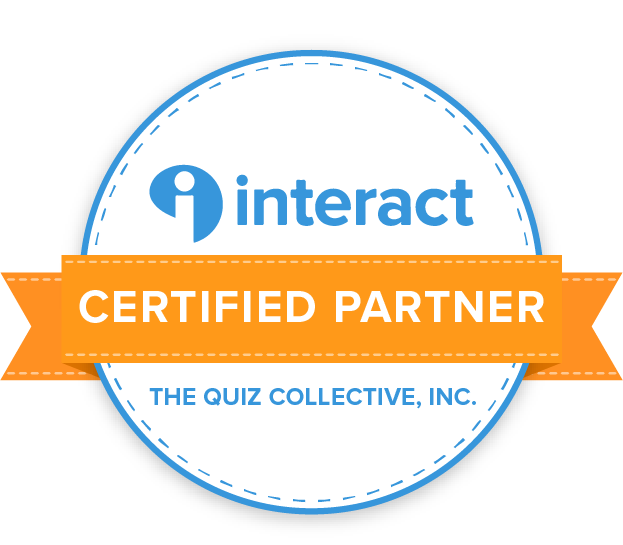 Luckily Interact let's you create as many quizzes as you can think of so there's always more opportunity to create the next best quiz!
Remember to create a quiz that fits in line with your audience, helps solve a problem or provide an answer, and make sure you've got all your triggers and actions set up so your sequences make it to the right people.
If you're looking to create an interactive quiz that helps build your list and make you sales then Interact has everything you could ask for.